The 6×6 Student Sponsorship Programme!
Funded by John Francis MEP Limited and delivered by EnGage Tuition Services UK
One-to-one tuition can be incredibly beneficial to students of all ages and abilities; having the chance to discuss a topic and ask questions on a one-to-one basis can really engage students in their learning and boost confidence as well as progress. This kind of support is needed now more than ever, but is unfortunately not always accessible to those that would really benefit.
Following school closures during the pandemic, many children have found themselves falling behind and losing confidence in their learning – sadly, this has also resulted in many students feeling uninspired by their work. The pandemic also highlighted existing inequality within the education system, with issues of financial and digital poverty becoming even more prevalent.
The 6×6 Student Sponsorship Programme, funded by John Francis MEP Limited and delivered by EnGage Tuition Services UK, aims to help students re-engage with their learning and motivate them by providing one-to-one support to students who really need it but may not usually have the opportunity.
This initiative will provide 6 students with a course of 6 one-to-one online lessons each, sponsored by John Francis and taught by a tutor at EnGage, without any cost to the parents/carers of the chosen students. The lessons will cover Maths and/or English depending on the requirements of the students, and students will have the opportunity to speak with their tutor beforehand to plan the lessons and prioritise the subjects in which they would like support.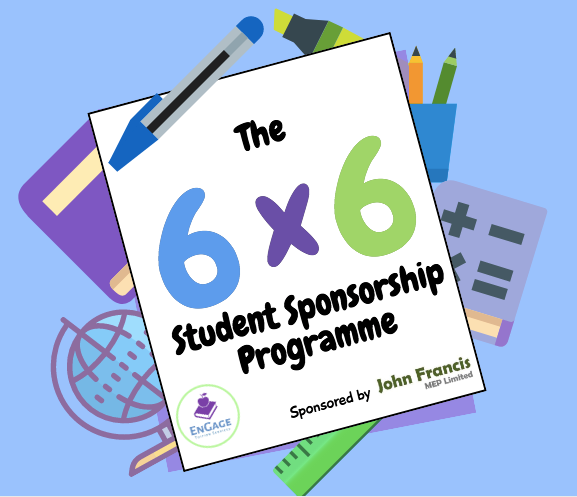 If you wish to apply for a place on this scheme for yourself, your child, or a family member, please complete the form via the button below.
Applications open on 6th April 2021. The deadline for applications is Tuesday 4th May 2021.